At voestalpine Giesserei Linz GmbH (VAGL) the main defects found in the final product are hot tears (HT) and hot tear segregations (HTS) which are formed in the solid/liquid two phase region due to mechanical stresses in the casting process. Steel grades for heavy steel casting contain increased amounts of alloying elements (Cr, Mo, V, B) and are commonly used in the energy producing sector (e.g. cast turbine components). Within the bachelor thesis the alloys of interest are the G17CrMoV5-10-2 and the high boron alloyed steel GX12CrMoCoVNbNB9-2-1 (CB2). Both concepts show specific solidification characteristics which favor the crack formation at high temperatures: The composition of the G17CrMoV-5-10-2 is close to the critical peritectic range of the Fe-C phase diagram whereas the high B content in the CB2 steel grade causes massive damage pattern due to the formation of low melting phases during solidification.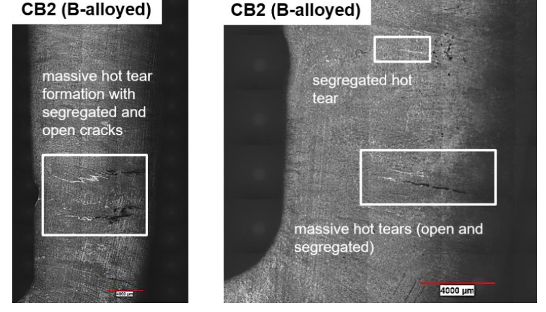 An in-situ hot tensile test developed at the Chair of Ferrous Metallurgy will be applied to characterize the HT/HTS sensitivity of the G17CrMoV5-10-2 and the CB2. The so called Submerged Split Chill Tensile (SSCT) test enables the crack initiation of HT/HTS during solidification under controlled cooling conditions. The subsequent metallographic analysis and numerical simulation of the SSCT test provides the experimental/numerical prediction of HT/HTS formation for each steel grade. Further, the experimental methods of the present work will cover thermal analysis by differential scanning calorimetry (DSC) to determine high-temperature phase stabilities and to reproduce the phase diagram of the G17CrMoV5-10-2.

Working program:
Part I: Literature review of boron induced hot cracking
Part II: SSCT tests for G17CrMoV5-10-2 and CB2 with specific variations of alloying elements; metallographic analysis and numerical simulation of the experiment with an in-house developed solidification model;
Part III: DSC of SSCT samples to reproduce high-temperature phase stabilities
Part IV: Discussion and documentation of the obtained results
Start:
August/September
Advisors
Michael Bernhard
Dipl.-Ing.
PhD-candidate - Thermodynamics of Steels